This was a significant renovation, The Fine Art of Romance gallery-boutique doubled in size.
What were the Client's requests for this project? The client requested a unique store where every customer feels comfortable and enjoys the friendly romantic space.
Here is the space BEFORE the renovation started: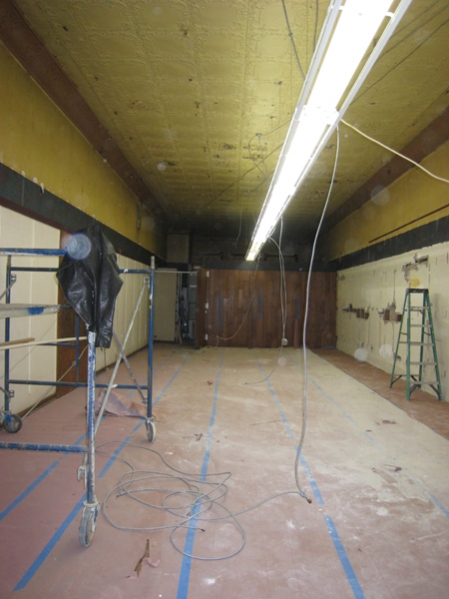 This is the before photo of one of the existing retail space that my client rented. The other retail space is to the right of the demising wall above. We opened the demising wall, combining the two spaces and creating a 3,500 square foot boutique.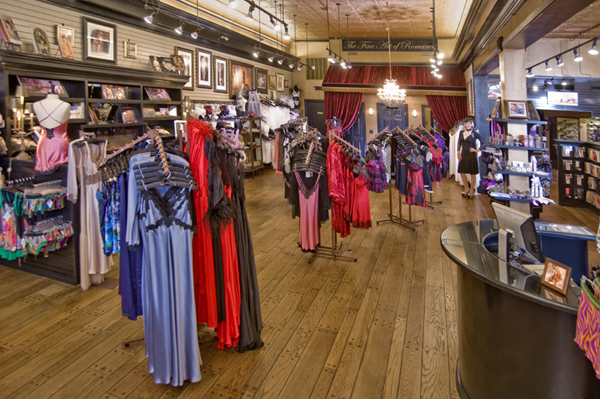 The finished retail gallery-boutique of men's and women's luxurious intimate apparel is pictured above.
The design intent was to create a delightful, luxurious boutique which specializes in men's and women's luxurious intimate apparel, loungewear, fitness wear, fragrances, nude fine art and exquisitely romantic gifts. This is achieved through historic high tin ceilings, magnificent chandeliers, velvet furnishings and drapery, a quaint library with whimsical fireplace in the midst of beautiful volumes of nude fine art books and artwork.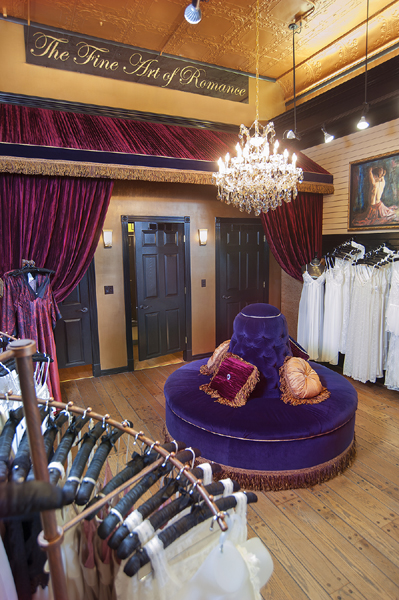 Creating a romantic atmosphere without over stimulating the customers' senses, distracting them from the merchandise or making them feel uncomfortable was one of the challenges.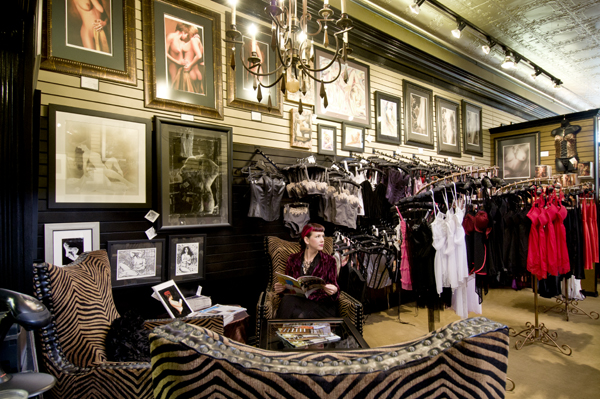 We kept the space neutral earth-tones and black so the merchandise would pop.
To create a romantic feel we focused on two areas: At the dressing rooms with creating a velvet drapery awning. Along with the romantic touch, it give the customers a bit of privacy when trying on intimate apparel. At the lounge seating we developed a grouping of three animal prints chairs which add a romantic feel.
We kept all the displays low enough to have a vanish point throughout. We develop different merchandise groupings: "Let's Get Physical", "Packaged Goods", "All Tied Up", "Bosom Buddies" and "Dangerous Curves Ahead".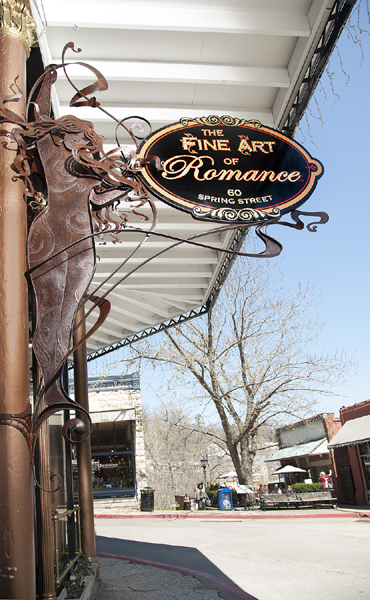 "Andrea has an incredible ability to tune in to her client's vision and make it happen. It was almost magical in the way that she knew exactly what I wanted, immediately tuned in to the areas where I lacked confidence, and BAM! provided a design solution that truly made me jump with joy. Andrea is a bundle of excitement and creative energy, it is exhilarating to work with her. The expansion of the boutique is the third design project Andrea has completed with us" – said co-owner Leslie Meeker.