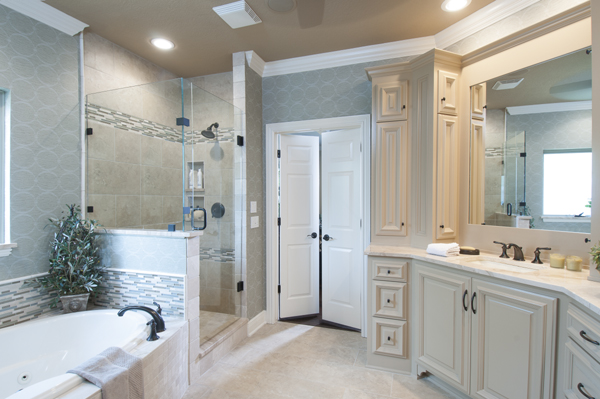 The neutral tones and warm lighting creates a soothing feel in this transitional bathroom. Oil-rubbed bronze faucets, the watery blue/green accent palette in the wall covering, and the glass tile mosaic create a very idyllic bathroom.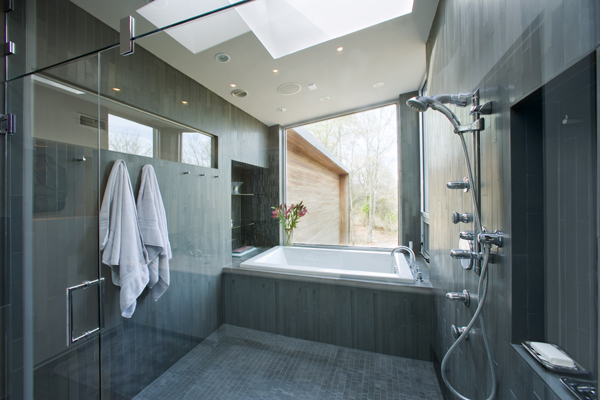 Light gray stone covers this contemporary bathroom for a stunning effect. The glass shower enclosure adds a sleek modern touch.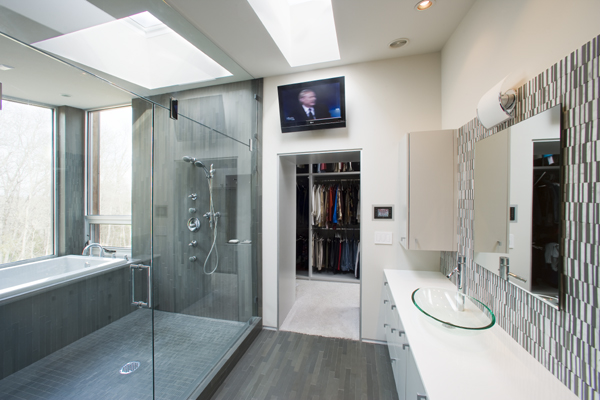 The selection of gray tiles placed in a Zen weave along with a white glass countertop and vessel sinks helps to create a relaxing retreat.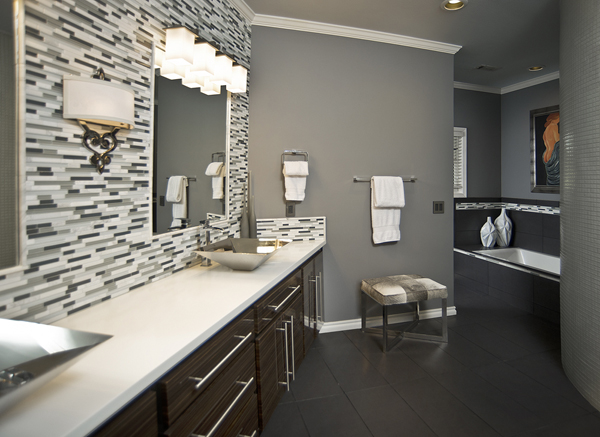 This sleek, modern environment is achieved with a monochromatic color palette paired with geometric lines and the use of modern classic pieces.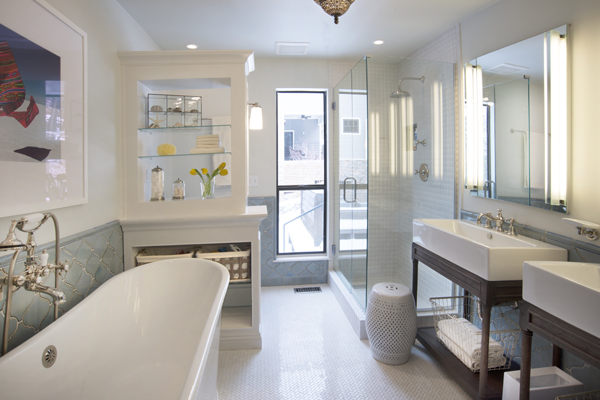 This oasis of a bathroom takes inspiration from Morocco. The arabesque tile wainscot and metal lantern blend with generally airy and classical forms.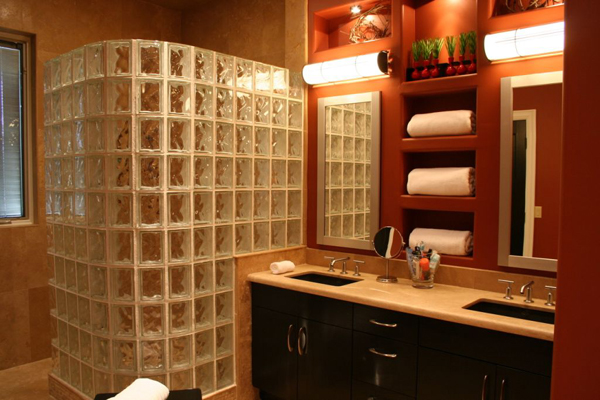 The stacked glass block walls that enclose the shower, the orange accented wall, the dark grain wood cabinets and the neutral stone countertop complete the look of this earth-tone, warm bathroom.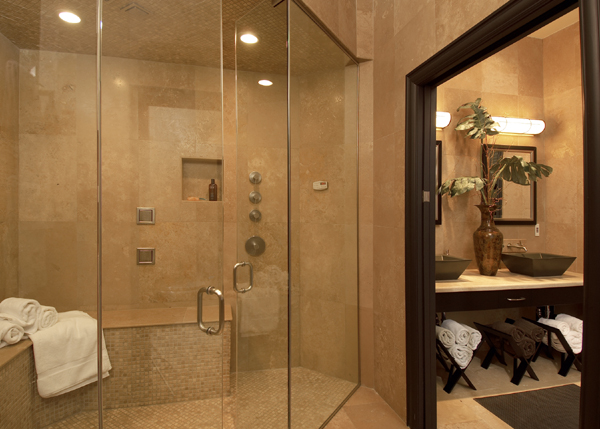 This bathroom is fresh, modern and warm. It features a large walk-in steam shower in the center of the room with a vanity on each side. The vanities are open with black drawers and a travertine slab top.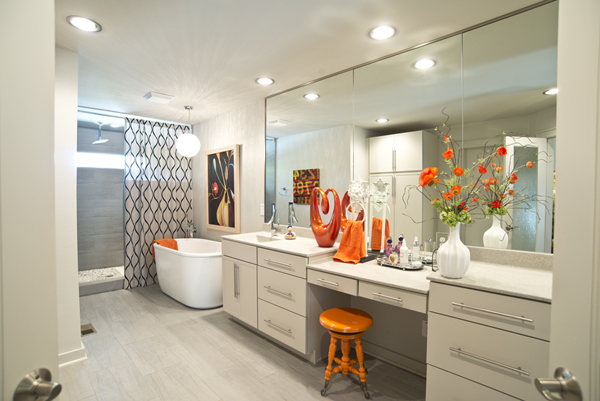 A grey tile shower with a horizontal window and geometric shower curtains combines with light walls and crisp white countertops for a bright, breezy atmosphere in this contemporary master bathroom.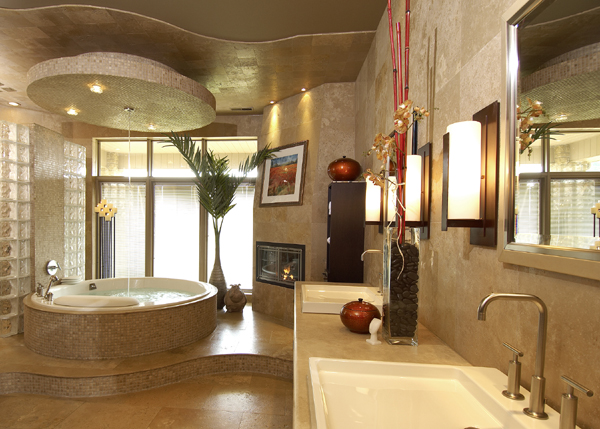 This master bath has a large glass block walk-in shower, a freestanding tub big for four, a cozy fireplace, and lots of storage. The cappuccino tile floor and walls warmed by rich cherry wood cabinets create a serene environment.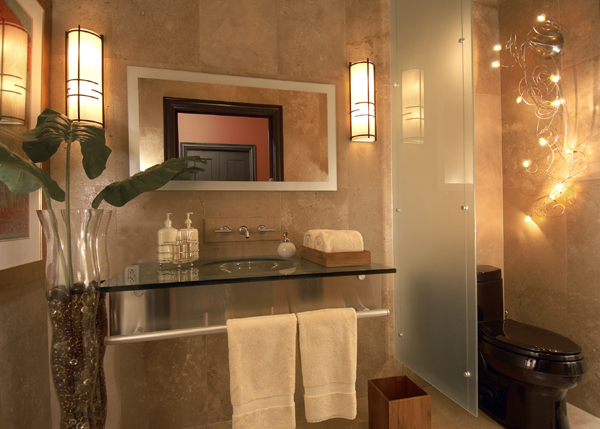 The powder room is small yet dramatic. The combination of travertine, glass, and amber lighting gives this room a warm glow that compliments skin tones.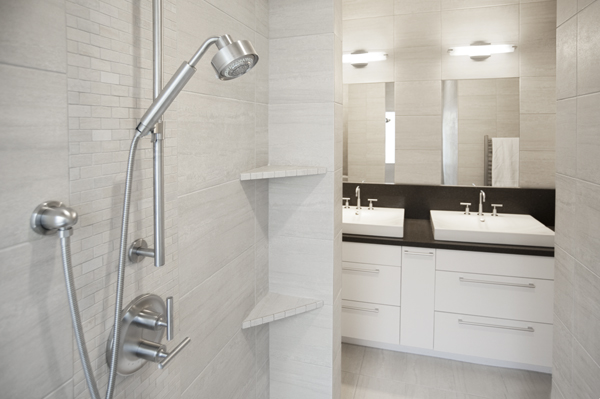 This light and modern master bathroom is impressive with heated floors, a towel warmer, open shower, floor to ceiling tiles and white-finish porcelain.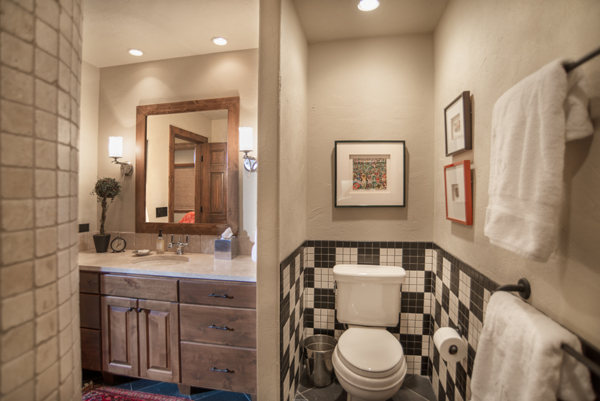 Black and white checkerboard wall tile wainscot tiles create a fun guest bathroom, which will never go out of style. The dark vanity is a bold contrast to the off-white walls and ceiling. Bathroom lighting from the wall sconces and recessed cans is functional and dramatic.