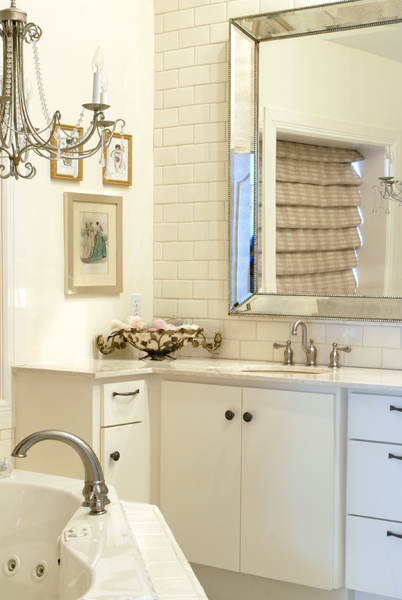 Designed to incorporate traditional and contemporary elements, this master bath has a unique look of its own. The marble countertops, white cabinets, and white subway tile backsplash all help to create a calming and relaxing mood.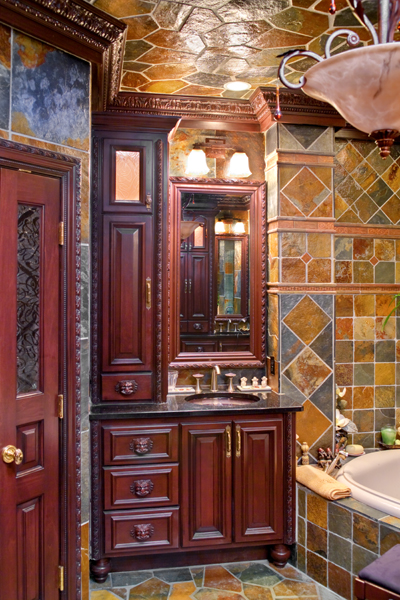 This bathroom highlights the environment with its cabinetry, millwork & moulding custom details. These components are blended with a rich tumbled slate on the ceiling, walls and floor to bring beauty and serenity.
Red mahogany cabinets were designed to add warmth, storage, and a bench to this powder bathroom. Three of the walls are painted to match the concrete floor, but to add a "wow" factor for guests, the south wall is covered from floor to ceiling in stacked pebbles.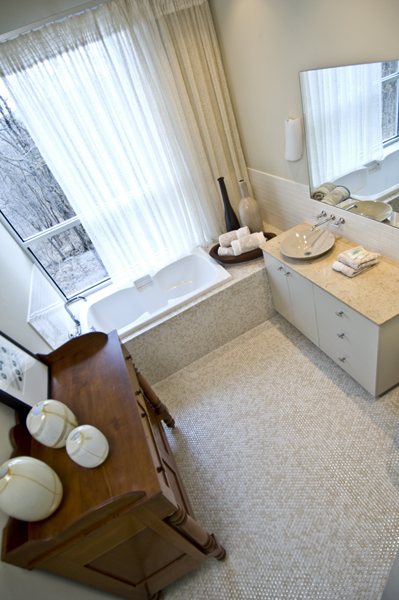 A variety of round mosaic tiles used on the tub and floor and a white subway tile vanity backsplash creates a lovely texture and pleasant feeling modern space.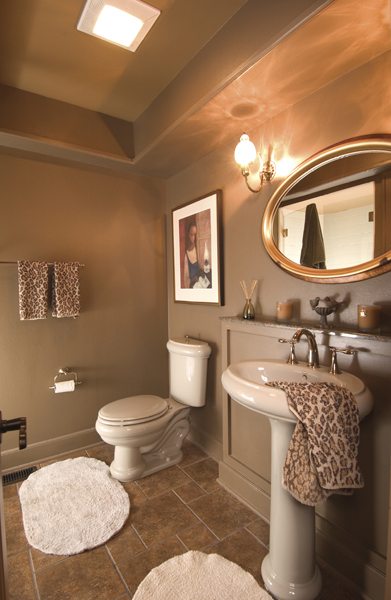 The colors give this space a tranquil feel. The walls and ceiling are painted cocoa. The pedestal sink, wall sconce, and mirror give the space a traditional feel. The animal pattern towels are the finishing touch.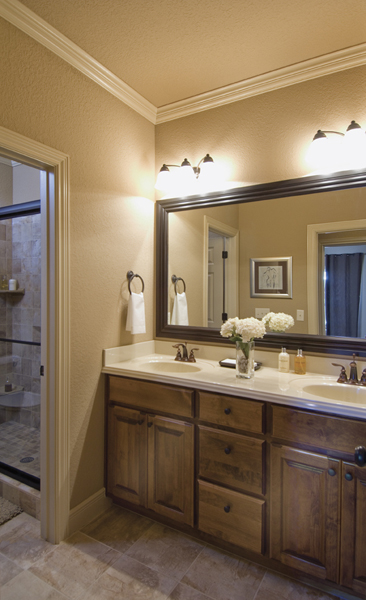 This bathroom is kept simple & clean to welcome guest. The dark mirror frame and vanity cabinets set themselves apart from the light walls.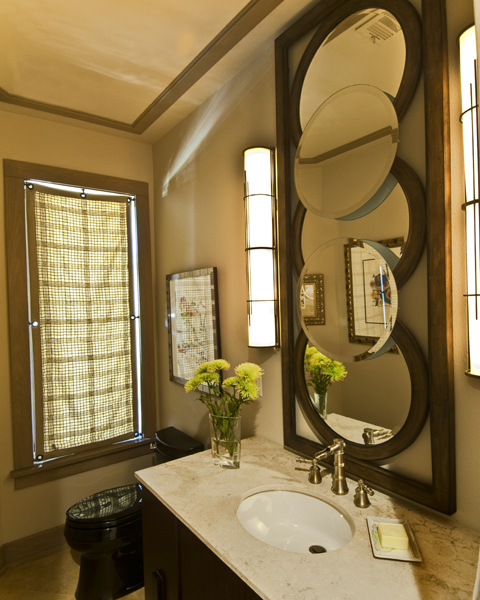 This powder bathroom achieves a functional yet tailored look. To add decorative significance and warmth a custom mirror along and a natural material, window treatment were added.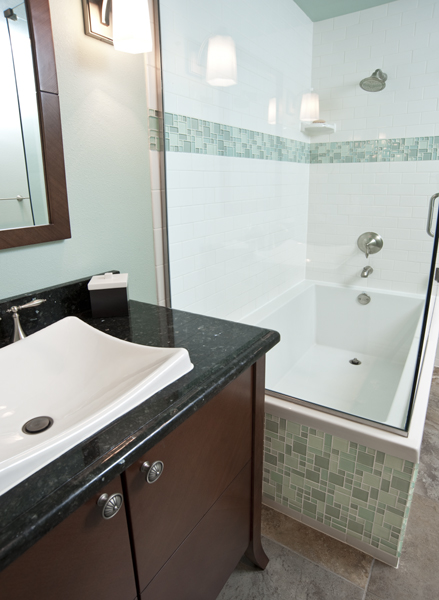 Beautiful green mosaic glass tiles makes a statement surrounding the bathtub with an accent stripe in the shower. Coupled with a deep wood tone vanity and black granite countertop this space has a warm and inviting feel.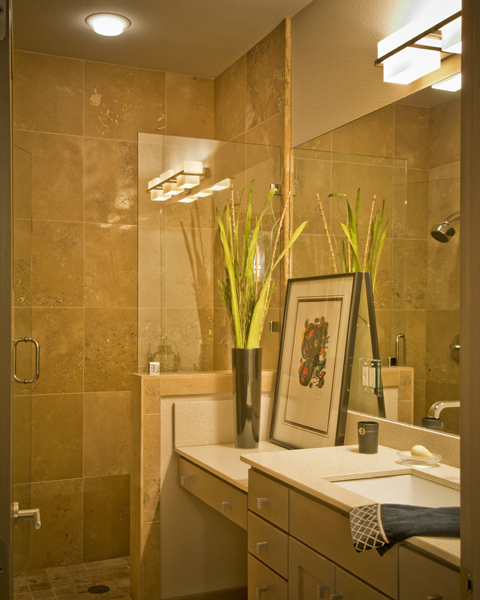 Travertine tile clads the floor and walls of the glass-enclosed shower – giving guests a rich and pampered feeling.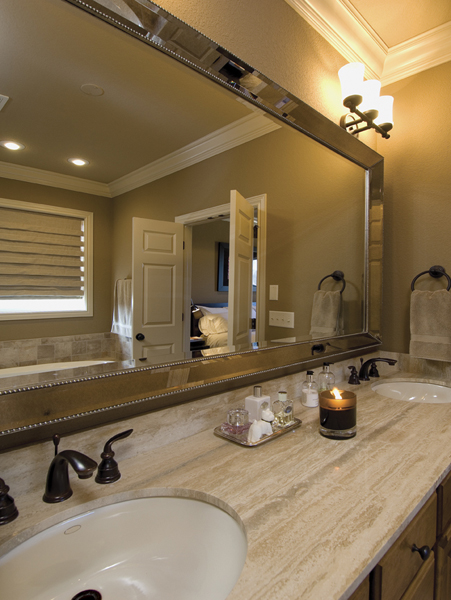 Designing with simplicity and a functional manner created this bathroom. Accessories are kept simple and displayed in an uncluttered manner, which offers a refreshing and clean look.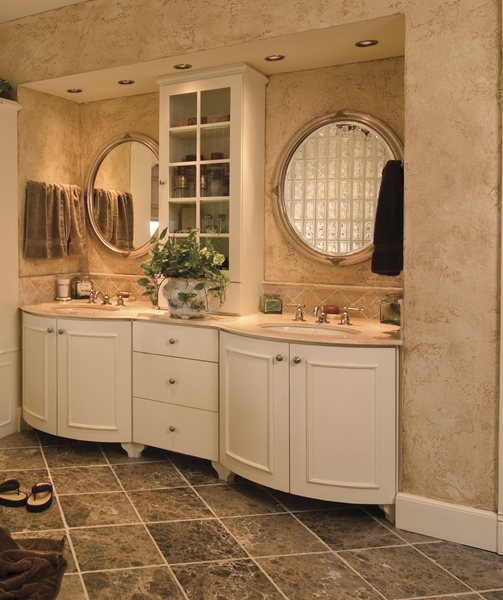 This bathroom takes on a more traditional feel. The golden venetian plaster walls, the 12×12 dark emerador tumbled marble floor, and the custom curved front vanities create the perfect haven.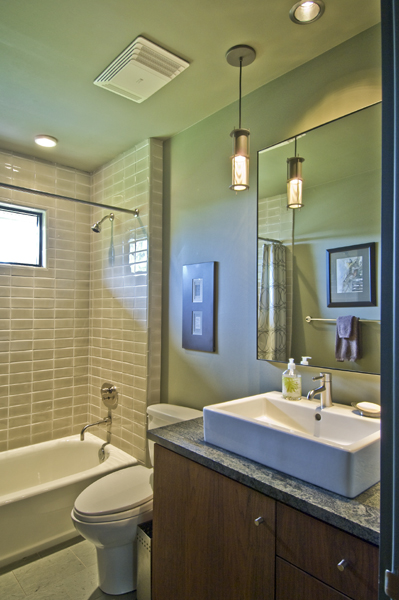 The grey, green, and blue color palette brings a calming atmosphere to this bathroom. The touches of contrasting shades, and the black and brown accents add just the right amount of "pop" to bring life to the space.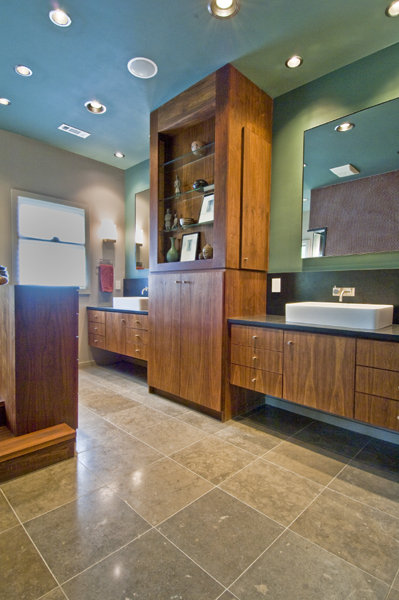 The architectural lines and the teal wall backdrops were kept vertical, while the lines of the vanities were kept horizontal to create clean lines that fit well with the simplistic, modern feel of this bathroom.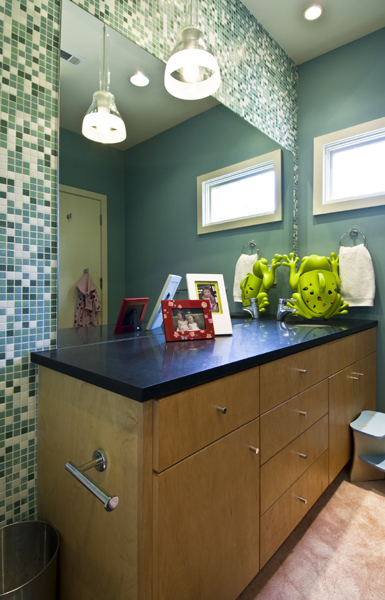 The white, green, and blue color palette of the accent mosaic tile brings a fun atmosphere to this kids bathroom. The touches of contrasting shades, white trim, and maple cabinet accent add just the right amount to create this inviting space.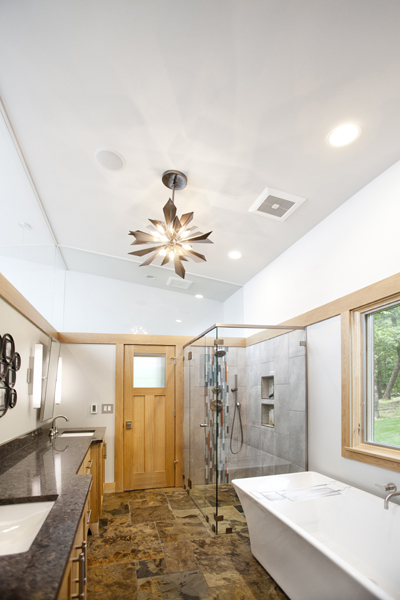 Hard, clean lines and sparse furnishings come together to create a modern design in this bright warm bathroom. Slate tile floor adds a touch of color while keeping the space sleek and sophisticated.
This powder room showcases walls painted in a deep Turkish coffee color, offering the perfect backdrop for the stunning, under-lit vanity sink.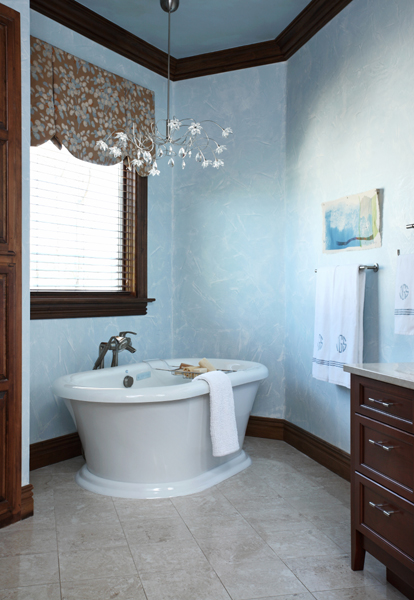 Relaxing shades with a soft, textual Venetian plaster in a pale blue tint complements both the dark wood trim and cream-colored tile floor.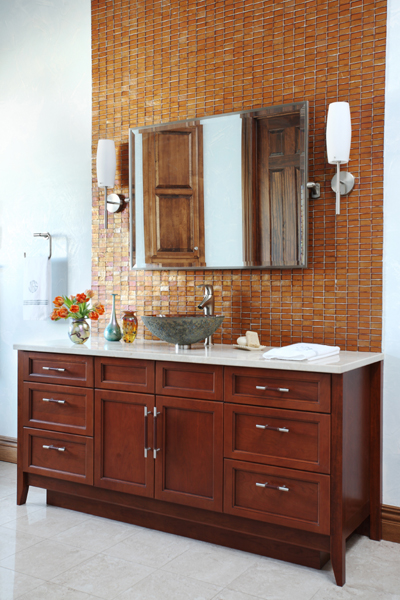 This vanity is of a modern style with storage areas and a warm finish. The light-reflecting glass mosaic tiles in iridescent amber backsplash create the focal point in this bathroom. Handmade amber glass vessel sink mounted on top of marble slab countertops finish off this restful space.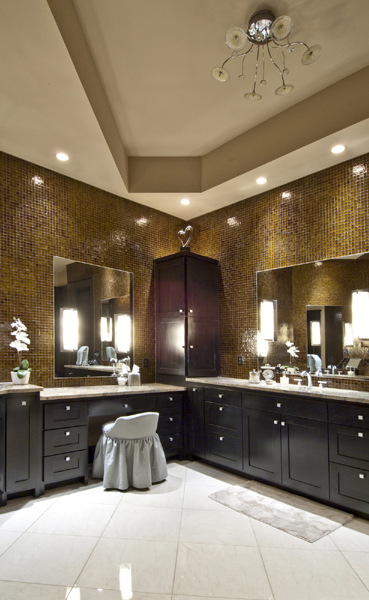 The walls in this bathroom are wrapped in root beer colored, mosaic glass tiles to contrast with the chocolate brown cabinetry. Custom-made, his and her vanity areas complete this spa-like oasis.